Easy Use: POPULO cordless drain snake can be used anywhere when fully charged. We designed a very comfortable grip, and the flexible cable can be bent more than 90 degrees without breaking or kinking, so it is very convenient to use. We also have a detailed English manual to teach you how to use it!
Powerful Power: This rechargeable cordless drain snake is equipped with a 12V battery pack and charger, which can fully charge in only about 80min. Adjust the speed to 0 to 500 rpm by applying different forces on the switch, and strong motivation allows you to unblock most of the pipelines.
Affordable Option: This product set includes gloves x1, tool bag x1, battery x 1, charger x 1, powered drain snake x 1, which can be reused and save the cost of hiring a plumber.
Professional and Multiple Use: POPULO plumbing snake with a 16.4ft long and 0.275inch wide heavy-duty spring steel cable! Clears clogs with ease from drains from 0.75inch up to 2inch in wide. This drain snake is professionally used for various drains such as kitchen, bathroom, utility sinks, bathtubs, shower drains, sewer, and floor drains.
Quality Products and Services: This electric snake is designed specifically for the American people. We can assure you that our products are of top quality. If you have any questions about the drain auger, please contact us via amazon or email customer service. We will reply to you in 24 hours! 
WHY THIS DRAIN SNAKE IS AWESOME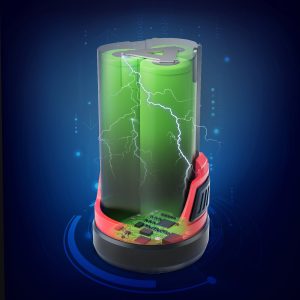 Electric Drain Snake
The POPULO drain auger is equipped with a 12V lumen rechargeable battery, which can be fully charged in only 80 minutes and supplying powerful power output in a long time.
Comfortable Grip
The operation of this drain auger is very simple, it's only 6 pounds, whether it is a man, a woman, or the elderly can use it easily.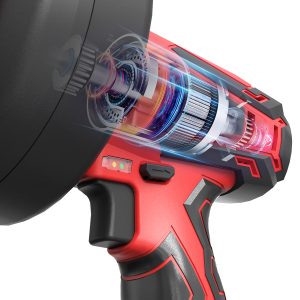 Adjustable Speed
Get you an optimum speed by pressing different strength on the switch trigger for different applications.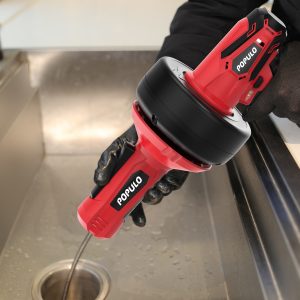 Cordless Drain Auger
Our 12V cordless electric drain auger is very convenient to use. There is no wire bondage, so that it can be used in any kitchen, bathroom, utility sinks, bathtubs, shower drains, sewer, and floor drains.
SPECS:
No Load Speed: 0-500 RPM Dredging
Cable Diameter: 0.275" (7mm)
Cable Length: 16.4ft (5m)
Battery Pack: 12V Max, 2.0Ah Li-ion
Charging Time: Approx. 80 Minutes
Weight: 6.05 Lbs. (including 1 battery)
What's in Box:
12V Lithium-ion Battery x 1
Size&Weight:
Size:

6.22 

× 9.41

 

× 

17.56 inches

15.8 

× 24

 

× 44.6

mm

Weight:
8.93 pounds
4 kg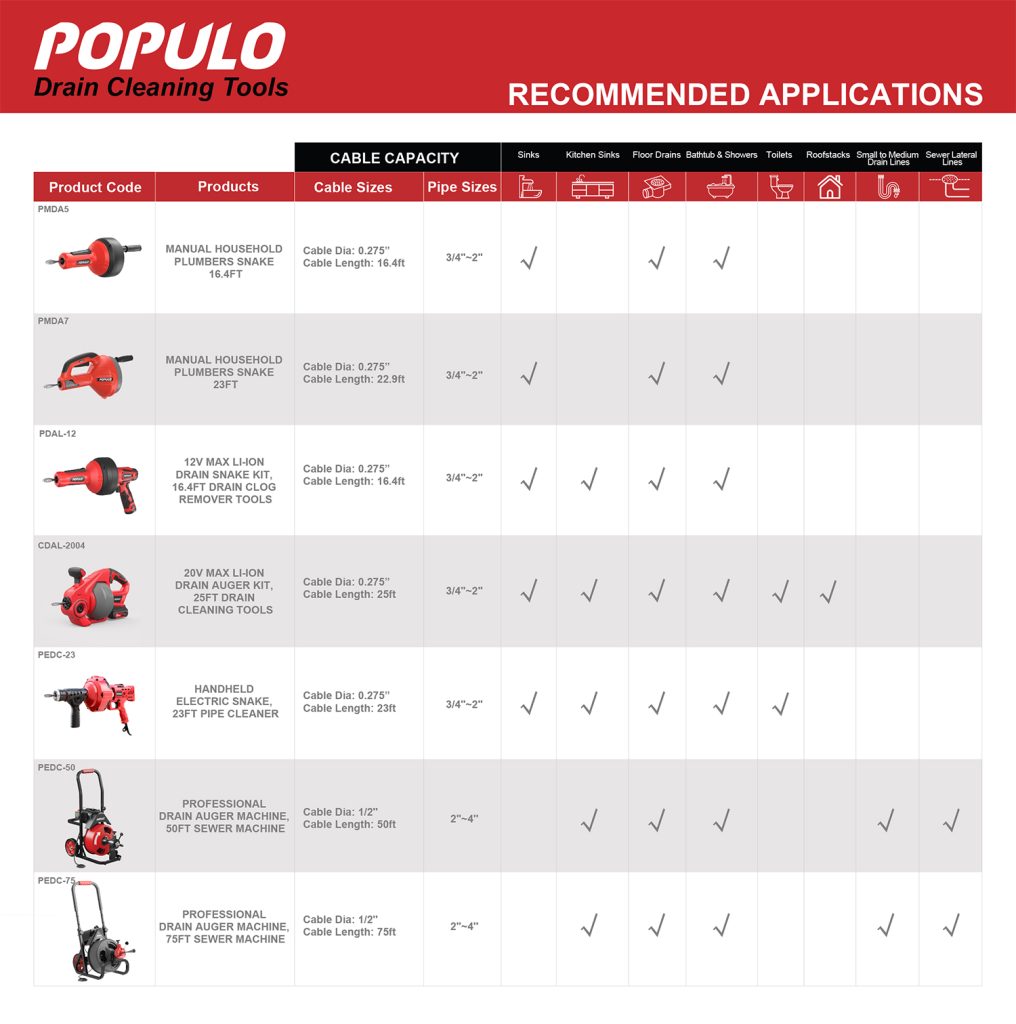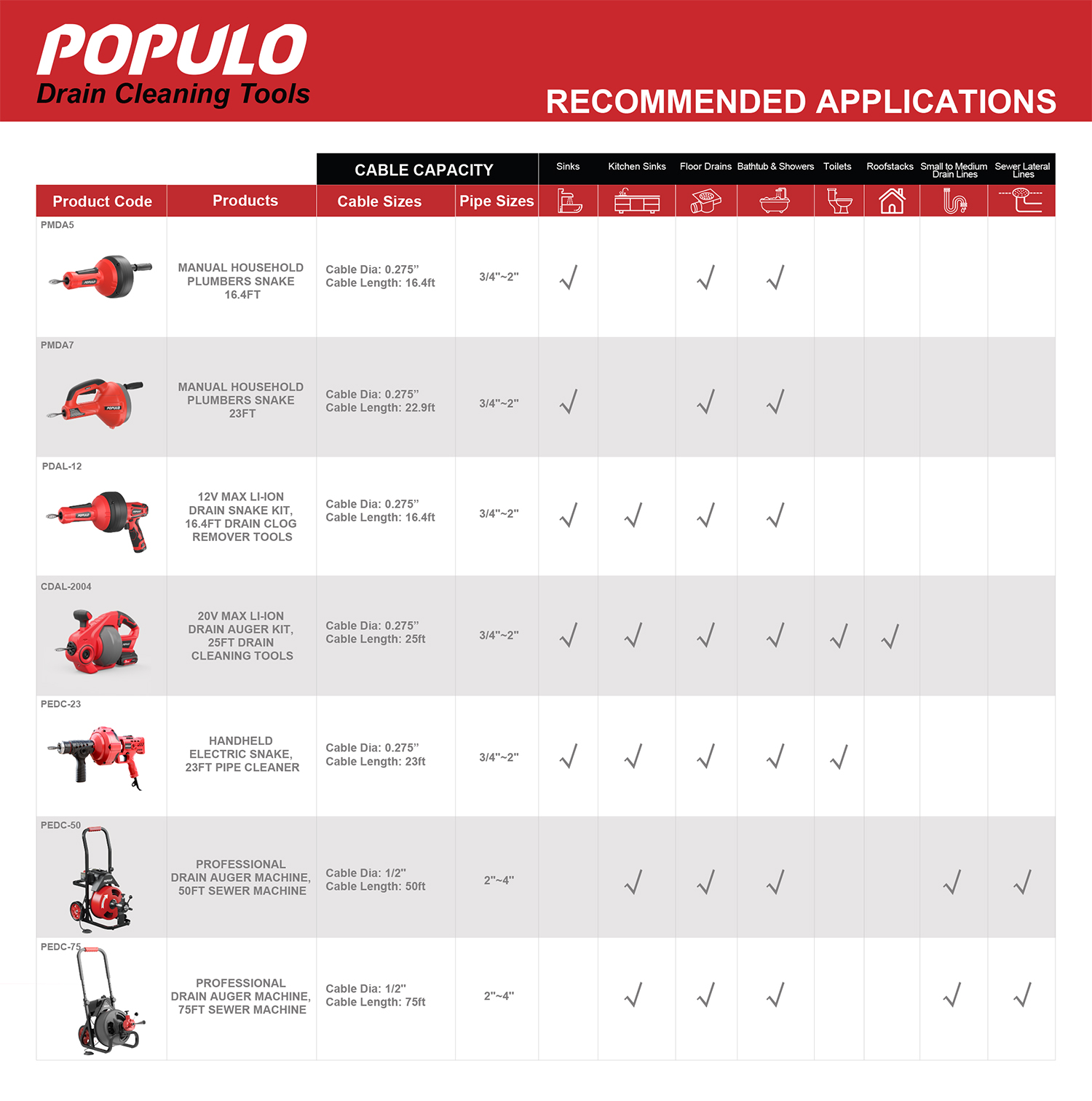 Buy On Amazon:POPULO Electric Drain Auger, 12V Flexible Snake Drain Clog Remover with Power Drill, Cordless Plumbing Snake for Toilet, Sewer, Bathroom, Sink and Shower, Comes with Gloves and Tool Bag – – Amazon.com