Multiple Use to Clear Most of Clogs: POPULO plumbers snake is professionally used for various drains such as kitchen, bathroom, utility sinks, bathtubs, shower drains, sewers, and floor drains. The plumbers snake is equipped with special tips for clearing downspouts and even central vacuum lines. The pipe cleaner comes with a pair of gloves, which help to keep your hands clean and safe.(Not recommended for use on the toilet)
Simple and portable: This plumbers snake drains auger comes with 16.4 ft of heavy-duty spring steel cable that goes beyond traps to remove most household clogs. Drum Diameter is 5.9 inches, the best high drum auger for unclogging drains and keeping your drains flowing smoothly.
Reusable Plumbing Snake: Features a lasting and durable firm drum housing for easy use. It will be more convenient to use with cordless drills. This hand-driven drain auger will clear your household drain clogs easily without calling a plumber, for decades of money-saving service.
Easy Handling and Detailed Instructions: The flexible spring can be bent more than 90 degrees without breaking or kinking, which enables you to reach the sink clogs efficiently. POPULO drain cleaner can be used manually or plugged in an electric drill, which helps to remove the blockages more conveniently.
Quality Products and Services: This drain cleaner is a humanized product designed specifically for the American people, we can assure you that our products are of top quality. If you are not satisfied with our drain auger, please feel free to contact us for everything!
WHY THIS PLUMBERS SNAKE IS AWESOME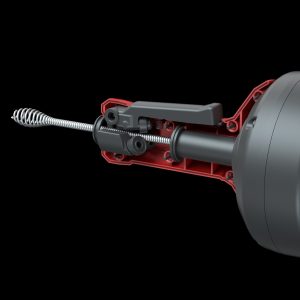 The head of the three-jaw chuck
Three chucks can perfectly control flexible shaft extension and contraction. Used as a manual auger, the drain cleaner has a swivel handle to manually move the snake in and out of the drain, and an easy-to-use trigger that rotates clockwise and counterclockwise to stretch and contract the cable respectively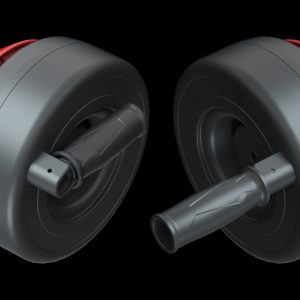 Comfortable handle
The handle design of the drain auger is ergonomic, the non-slip handle is comfortable to hold and can be folded.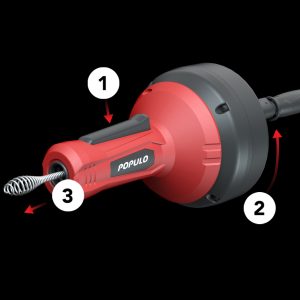 Easy to operate
For use as a hand auger, the drain cleaner features a turn handle that manually spins the drain auger cable in and out of the plumbers snake and an easy-to-use trigger to extend and retract the cable.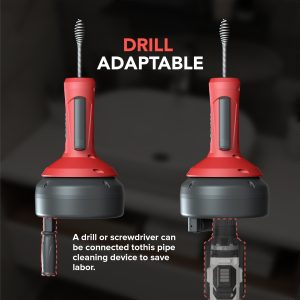 Dual-purpose plumbers snake
Can be used by hand alone or with an electric drill.
SPEC:
Cable Length: 16.4 ft. (7mm x 5m)
Drum Diameter: 5.9 inch (150mm)
Max Rotary Speed: 500 rpm
Dredging Capacity: 0.75 inch -2 inch. (19-50mm)
What's in Box:
Size&Weight:
Size:
11.85 × 7.24 × 6.69

inches

30 × 13.38 × 17 cm

Weight:
5.08pounds
2.27kg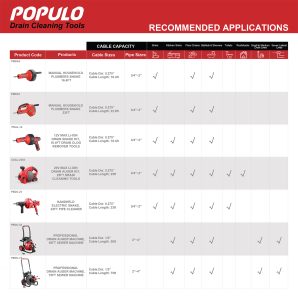 Buy on Amazon: POPULO Drain Auger, Plumbing Snake with Gloves, 3/4″-2″ Pipe Snake Drain Clog for Bathtub Drain, Bathroom, Kitchen, Sink and Sewer Snake Machine – – Amazon.com