4.0Ah battery pack & powerful motor: The powerful(130W ) motor provides strong suction and air flow. Max Airflow: 44.5CFM Take care of daily work, 4.0Ah battery pack Up to 25mins excellent endurance,at the same time, we provide POPULO 4.0AH battery packs for sale. Search POPULO battery packs and you can buy spare battery packs.
Convenient and environmentally friendly: HEPA Filter reusable filter element, after use, it can be washed, dried, and reused. one filter element for dry and wet scenes, eliminating the need to replace the filter element of traditional vacuum cleaners to adapt to a dry or a humid environment, and no dust bag is required. At the same time, you also have a portable blower, which can inflate the mattress when camping and support combustion when you start a fire.
Absorbs water and can be used in humid environments: The vacuum cleaner is designed with the IP24 standard. The switch and battery compartments have a certain level of protection. It's suitable in moist environments such as toilets or bathrooms. It can clean the hair on the bathroom floor or knock over water and drinks on the floor. This Vacuum cleaner is equipped with Anti-overflow by Dual Probe Detection, which will automatically stop running when the water level is over the warning level.
Portable and easy to store: The vacuum cleaner adopts a toolbox with a rectangular design and weighs only 8.3 pounds. It is convenient to store in small spaces such as a car, Touring car, boat, truck, garage, etc. The top handle and shoulder strap are super convenient for mobile use like stairs or around the house. There is no cable, so you won't have the embarrassment of being entangled while using, allowing you and your family to clean up in a relaxed and happy mood.
Inclusion: Round Brush, Upholstery tool, Wide Nozzle, Crevice Tool, Shoulder strap, 20V Max 4.0AH battery pack, Battery Charger. Hose Clamp length 6ft (by 1-1/4″ diameter) 
WHY THIS WET DRY VACUUM CLEANER IS AWESOME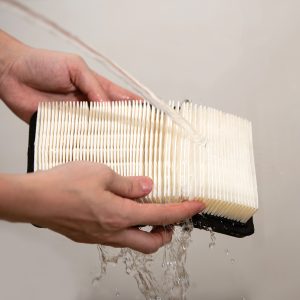 Washable Hepa & Bagless Design
Adopted H10 washable Hepa filter without bag design, makes this bagless wet dry vacuum doesn't need to empty every day, and will not block your wet-dry shop vacuum.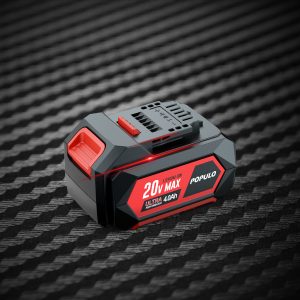 Long-lasting Battery
Populo cordless shop vac powered by lithium-Ion rechargeable 4.0Ah battery delivery up to 30mins runtime without the limitation of cord length.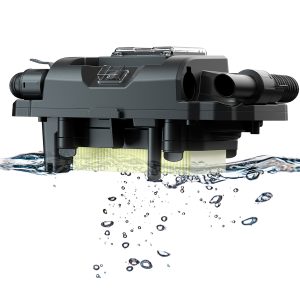 Safe Protection
Automatically turn off the suction function when the water line reaches the critical point to ensure the long-life working of the motor. No need to worry about system breakdown.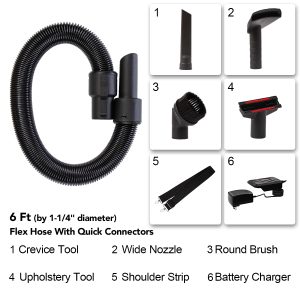 Easy Expansion Hose
Hose Clamp length 6ft (by 1-1/4″ diameter)
SPECS:
Tank Capacity: 2.6 Gallon
Battery Pack: 20V Max, 4.0Ah Li-ion
Charging Time: Approx. 3 Hours
Weight: 8.3 lbs. (including 1 battery)
What's in Box:
20V Max Portable Wet/Dry VAC x 1
20V Lithium-ion Battery x 1
Size&Weight:
Size:

15.35 

× 10.2

 

× 10.2

inches

39 

× 26

 

× 26

mm

Weight:
8.3 pounds
4kg